October 16, 2023 - China Duty Free Group (CDFG) announced today that DUTY ZERO by cdf (Duty Zero) soft opened its first Southeast Asian airport duty free store, located at Siem Reap-Angkor International Airport in Cambodia. This store signifies the strategic advancement of CDFG in the global market. As the latest example of overseas cooperation among state-owned enterprises, it showcases CDFG's active expansion in foreign market and driving business globalization under the leadership of China Tourism Group (CTG). This is an important milestone in the development of CDFG's overseas duty free business.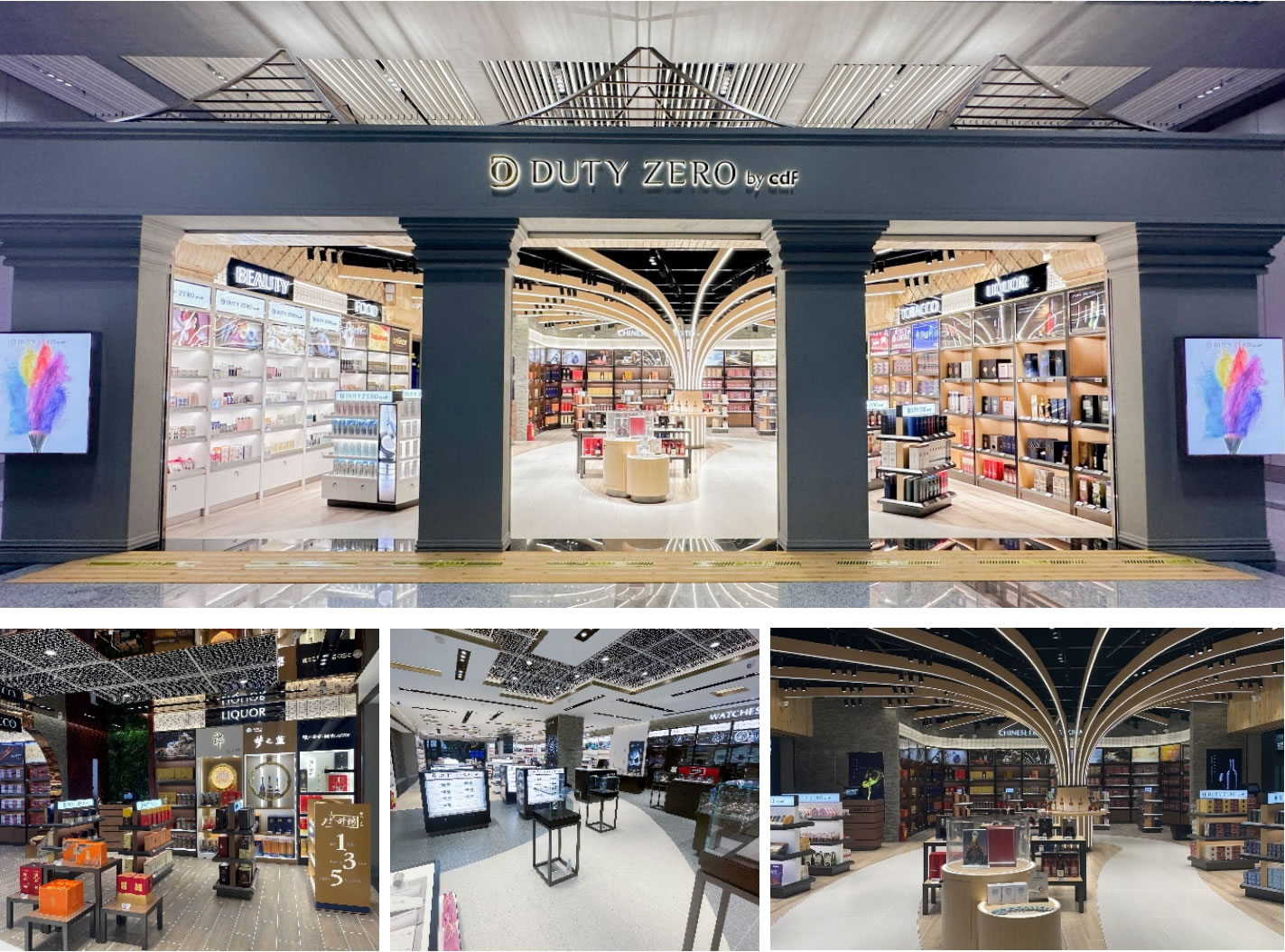 DUTY ZERO by cdf Siem Reap-Angkor International Airport Duty Free Store
DUTY ZERO by cdf Siem Reap-Angkor International Airport Duty Free Store is located in the brand new terminal building of the airport, operated by China Duty Free Group (Cambodia) Co., Ltd.(cdf Cambodia). The store was designed with elements of the Angkor Wat, skillfully blending classical culture with modern design to provide travelers with a one-stop luxury shopping experience. The Store offers international travelers a world-class duty free shopping experience with a collection of over 100 internationally renowned brands of cosmetics, fragrances, jewelry, watches, apparel, tobacco and alcohol.
As a pioneering force in the expansion of state-owned enterprises' overseas duty-free business, CDFG has been deeply cultivating the Southeast Asian market. CDFG cooperated with Moutai to open the world's first overseas airport Moutai Family store in the brand new duty free Store, bringing overseas customers oriental culture and building a new sales platform for national liquors seeking overseas expansion. This cooperation is an endeavor for CDFG's to develop diversified global duty free business.
The world's first overseas airport Moutai Family store
To celebrate the soft opening of the new store, DUTY ZERO by cdf, located at Siem Reap-Angkor International Airport, will offer a series of shopping benefits for travelers from around the world. In addition, travelers will be able to redeem gifts by posting on social media after shopping.
As the world's largest travel retailer, CDFG adheres to the principles of "doing business in good faith and providing high-quality services", collaborating with partners from various countries to advance together. 2023 is the 65th anniversary of China-Cambodia diplomatic relations and the "China-Cambodia Friendship Year." CDFG actively promotes the continued development of Cambodia's tourism industry, injecting new vitality into China-Cambodia friendship and tourism cooperation.
In March of this year, "CDF Charity Service" was officially launched in Phnom Penh, followed by the opening of the "Unlimited Innocence" charity art exhibition at store in Phnom Penh, Cambodia. Since 2016, cdf Cambodia has consistently organized charity activities, with a total of 26 events benefiting thousands of children.
In June, cdf Cambodia was officially granted as "The Home of Chinese Tourists" by the Ministry of Tourism of Cambodia. This is the first time and the only stated-owned enterprise to receive such authorization from the Cambodian Ministry of Tourism. It signifies the important role played by cdf Cambodia in providing high-end and quality tourism services.
Since its establishment in 2013, CDFG has opened three downtown duty free stores in Siem Reap, Sihanoukville, and Phnom Penh. DUTY ZERO by cdf at Siem Reap-Angkor International Airport is not only CDFG's forth duty free store in Cambodia but also a key strategic move to comprehensively expand its presence in Cambodia tourism retail market, achieving seamless integration between airport and downtown operations. cdf Cambodia will continue to deepen cooperation with Yunnan Airport Industry (Cambodia) Co., Ltd. (YACA) and Angkor International Airport Investment Co., Ltd. (AIAI) to jointly create a model of overseas cooperation between state-owned enterprises.
In the future, CDFG will continue to leverage the advantages of its parent company, China Tourism Group, which covers the entire tourism industry chain, to deepen its presence in overseas markets and contribute to the development of the global travel retail industry. Simultaneously, it will inject new impetus into the development of China-Cambodia friendship and humanistic tourism cooperation under the framework of the "Diamond Hexagon" concept. It aims to further deepen China-Cambodia friendship.